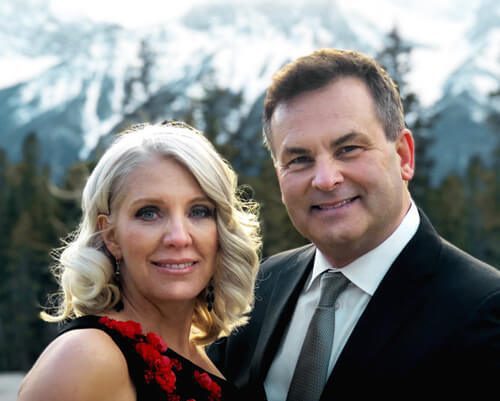 Leon & Sally Fontaine are senior pastors at Springs Church. With a significant love for people, they have devoted themselves to building a Spirit Contemporary church that empowers people to live fully alive with God's power, yet be completely relevant in their day-to-day lives. Since becoming senior pastors at Springs Church Winnipeg in 1994, Leon & Sally Fontaine have taken the church through unprecedented growth.

Leon & Sally are a dynamic team and a great example of unity. They believe both the home and the church should be thriving places filled with laughter and joy. Along with their family, (4 daughters, 1 son, 4 son-in-laws, 1 daughter-in-law, and 3 grandchildren) they live life to the full as they build Jesus' church together! 

For more information visit LeonFontaine.com
SPIRIT CONTEMPORARY
How would your world change if you regularly experienced the miraculous? And what if this happened everywhere you went—in a way that attracted people to Jesus? It wouldn't just make a difference in your world…it would make the world different.
It might sound too good to be true…but that's the Spirit Contemporary life.
L.A.F. That's the heart of Springs!
At Springs, we think of our church as a family, and we love to laugh and enjoy life together. We spell laugh differently (LAF) to help us remember these three things:
L stands for love.
As a church we strive to love one another the way that God loves us. His love is unconditional and is best described in
1 Corinthians 13 (The Message): Love never gives up. Love cares more for others than for self. Love doesn't want what it doesn't have. Love doesn't strut, doesn't have a swelled head, doesn't force itself on others, isn't always "me first," doesn't fly off the handle, doesn't keep score of the sins of others, doesn't revel when others grovel, takes pleasure in the flowering of truth, puts up with anything, trusts God always, always looks for the best, never looks back, but keeps going to the end.
A stands for accept.
No one is perfect and we are all at different places in our walk with God. When we choose to accept each other where we are, we allow God to change us and help us grow.
F stands for forgive.
Will someone at Springs say or do something to hurt or offend you? Probably. Just like life, church is filled with imperfect people. Because we all make mistakes, we all need to learn to forgive. Jesus taught us to forgive because when you forgive others, you actually free yourself.
We've noticed that some of the happiest people are the ones that love, accept and forgive quickly. So join us at Springs and learn to LAF along with us!
For a more detailed list of our beliefs view our statement of faith.
Come Join the Adventure!
It is our desire at Springs Kids to create an environment where children from 4 months to Grade 6 can get to know God in a way that's exciting, practical and relevant. The atmosphere in our classrooms are enticing. Big screens, energetic music, colourful toys, imaginative play centres, award winning puppets, mascots and creative Bible teaching all make Springs Kids a great place to bring your child.
Learn More >
Every Friday
An evening out at Springs Youth is an unforgettable encounter. When you experience a youth service, you experience a passionate movement of teenagers committed to a cause. You won't be able to get to your seat without someone saying hi, treating you like a unique person, and reinforcing our belief that "You Belong". If you show up here alone, or if you bring out your whole crew, it doesn't matter, Springs Youth is for you!
Learn More >
The Leadership and Management Program is a full-time nine-month program designed for young adults between the ages of 18 – 25. 
For more information including registration visit here.
In all things, SCA guides students toward Christ.
We work with parents to ensure the principles of the Word that are taught at home and church are also taught at school. SCA is a positive environment where students feel empowered to make good choices, building the strength of character that leads to lasting emotional, physical, and spiritual well-being.
For more information visit the dedicated website.