Beryl Labossiere
April 12, 2021

-

May 12, 2021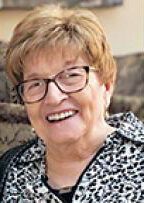 BERYL LABOSSIERE
March 30, 1931 – April 1, 2021
On April 1, 2021, Beryl left for heaven peacefully at the age of 90. Beryl was born in Winnipeg, Manitoba to Gerald and Catharine Benner (nee McCready). As a young child, she moved with her mother to Port Arthur, Ontario, to live with her grandparents.
As a young woman, she moved to Atikokan, Ontario to work as an executive secretary at Steep Rock Iron Mines. This is where she met Raymond Labossiere who would become her husband and life partner for over 65 years.
Beryl was a leader in her working life and in her community.
In 1987, Beryl and Ray moved to Morden, Manitoba where she continued to be active in their new community.
They made the move to Winnipeg in 2010 to be closer to their family that lived there. They lived at Dakota House.
Beryl was a vibrant and dynamic person. She loved to sing and joy poured out of her when she sang in church or choral groups. She was a loyal Winnipeg Jets fan, and her competitive nature was present whenever playing board games.
Beryl was predeceased by her loving husband Raymond, her mother Catharine and stepfather Horace Hodgins.
Beryl is survived by her siblings, Lynne Karp, Mardi Hodgins and Sid Hodgins; her children, Susan (Jeff) Romas, Jayne (Mitch) Madill, Mark (Jody) Labossiere and David Labossiere (Kevin); her grandchildren, Sherri (Gary), Christy (Matt), Sarah, Jillian, and Aidan; her great-grandchildren, Rowynn, Kate, Grace and Jack.
Mom, you will be so missed,
but it's not good-bye, it's see you again!
A private family service will be held at a future date.
In memoriam donations can be made to Springs Inner City, 725 Lagimodiere Blvd., Winnipeg, MB R2J 0T8.
Arrangement Entrusted to:
Rock Fontaine, Funeral Director
Honour – Respect – Dignity
(204) 223-2576 Toll Free (866) 499-2601