Jacqueline Luella Fontaine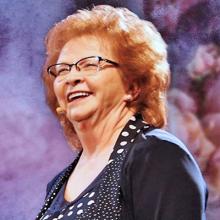 JACQUELINE LUELLA FONTAINE
(Banman)
July 14, 1944 – May 18, 2023
---
Peacefully on Thursday, May 18 with her family by her side, Jacqueline Luella Fontaine went to be with her Lord and Saviour. She leaves to cherish in her memory daughter-in-law Sally, sons Manning (Jacqueline), Rock (Aline), Rolland (Jennifer), and Guy (Sarah). Grandchildren: Eden (Jayden), Danielle (David), Tamara (Jeremy), Michala (Austin), Zachary (Jessica), Monica, Gina, Meghan, Sam, Mercedes (Jayden), Noel, Landon, Lucas, Petra, Andre (Allie), Triston, and Cody. Great-grandchildren: Oscar, Olive, Judah, Gabriel, Sloane, Ellis, Billie, Rosie, Harvey, Emelyn, Margot, and Earnest. She is also survived by her sister Buela, sisters-in-law Joan and Gladys, brother-in-law Wayne, along with many nieces, nephews, and friends. She was predeceased by her husband of 41 years, Cameron Albert Fontaine, her son Leon Fontaine, Grandson Adam; her mother Eva Wiens; sisters Sheila, Reany, Pat, and brother Manny.
Jacqueline was born in Prince Albert, Saskatchewan on July 14, 1944, to Jake and Eva Banman. The family moved to Porcupine Plain, Saskatchewan in 1949 and this is where she received her education. Jacqueline met the love of her life Cameron in 1960, when her mother invited the new pastor over for supper. They married on September 23, 1961. After marrying, Jacqueline completed bible school at Living Word Bible College and then soon began having a family. The following years found the additions of Leon, Manning, Rock, Rolland, and Guy.
Jacqueline and Cameron pastored in Porcupine Plain until April of 1969, when they then moved to Weldon, Saskatchewan to pastor the Weldon Pentecostal Church. Both at Porcupine Plain and at Weldon, they traveled to many northern Indigenous communities singing and spreading the gospel. In Weldon, they also went into the Prince Albert Penitentiary and the farm annex.
The years in the Saskatchewan assemblies were great years, where life-long friendships were forged, and priceless memories made. April 1980 found them responding to an invitation from another group of believers who were starting a new assembly in Selkirk, Manitoba; New Life Community Church was born. First starting out in Robert Smith School, then the IOOF Hall, and finally 479 Eveline Street. Precious friendships and families were added to their lives. Jacquie and Cam both began ministering in India while pastoring in Selkirk and continued to do so even after leaving Selkirk to join Springs Church with Leon and Sally in 1996.
Upon starting to minister at Springs Church, Pastor Jacquie was involved in biblical studies, Springs College, adult groups, counseling, the school, and church's pastoral department. Pastor Jacquie's love and deep knowledge of God's Word has been instrumental in developing many key church programs. She was gifted at creating fun in God's family, for example having amazing Valentine's banquets that involved the congregation and having numerous parties and potlucks. She loved to fellowship and build relationships which greatly contributed to the Loving, Accepting and Forgiving culture of Springs.
Mom loved to cook, bake, and party with her family. She was known for her famous chocolate cake and pickles. She loved big hair, and she was elegant. She had the gift of paying attention to detail and doing things with excellence. Mom's love as a mother extended beyond her own family to the church family, where many viewed her as their spiritual mom. She had a big heart. She knew the importance of walking slowly through the hallways, giving attention to all who needed her time. Mom loved to have fun and she always made sure to make events with her family memorable.
She had a great sense of humour and loved to play pranks. Her grandkids and great- grandkids meant the world to her. She made time for each and every one of them.
Jacquie will fondly be remembered as a counselor, friend, and mom who never sugar-coated the truth and always made you "back it up with the word".
The family would like to extend our thanks to the staff of Donwood Manor Personal Care Home for the wonderful care. Special thanks to Amber, Ruth, Nora, Joy, Jackie-Lou, Kris, Ivan, Lisa, Angel, Kelly, Zoe, Raquel, Marlon, and all the staff involved in her care; as well as Rick Kotaska.
A celebration of mom's life will take place on Saturday, June 3, 2023, at 11:00 a.m. at Spring Church, 595 Lagimodiere Blvd., Winnipeg, Manitoba.