Pauline Stolar
March 25, 2021 at 8:00 am

-

April 25, 2021 at 5:00 pm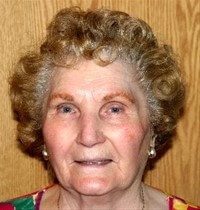 "Our Gardening Angel"
Our precious mother left us to join her King and Jesus on Monday, March 22, 2021. She passed away knowing that her families love was with her.
Mom was a person with a heart full of love, especially for her children, grandchildren and great-grandchildren. She taught us the values of life, hard work and caring of others around us. She was devout Christian and definitely was an inspiration to all who had the privilege of knowing her. She played a large role in being the "Head of The Prayer Warriors" of Springs Church, Selkirk. Her strengths and belief in Jesus projected thru her prayers. One of her most comfortable places in her life was at Springs Church every Sunday. A heartfelt thanks to Chris, Diane, Mike, Dan and Wanda for always making sure she got there safely.
Mom was born in Middlechurch, Manitoba on June 27, 1921 to Michael and Kathryn Formaniuk. She was the youngest of 5 children. Mom was predeceased by her parents, brothers Anthony, Harry (late Elsie), sisters Ann (late John) and Mary (late Fred); also by a precious son in infancy in 1951, granddaughter Angela in 1965, as well as grandson Todd in 2013. She now joins our Dad and many others who went before her.
Our mom was raised on a dairy farm in Rivercrest where she learned her magnificent gardening, cooking and caring of livestock. Mom could make a dandelion look beautiful. Her love of nature, the straying of wounded or abandoned animals always seemed to be led to our farm for mom's nursing hands.
She also passed these traits along to her children, recognizing the importance of life, whether great or small. Our mom was not of a material nature, but of what was in your heart. She often said "You will be judged one day, so use the Lord's word wisely."
She is survived by her children Ken (Thea), Bill, Sally (Gordon) and their families. Mom was blessed with grandchildren Deb (Mike), Ken (Sarana), Karen (Mike), Kim (Joe), Shauna (Nathan), Candace (Chris), Jason (Tara) and Darin along with their respective families. Mrs. Ella Stolar is mom's only surviving sister-in-law, along with her family, our cousins and families. She is also survived by numerous nephews and nieces along with their families. There's a lot of angels in this family.
Special thanks to some very special church family of mom's namely, Lisa, Wendy, Cheryl, Mike, Dan and Wanda. These individuals, along with her family allowed her to remain in her home until her passing. If I have missed anyone, you know who you are and thank you.
Also a big thanks to the Paramedics who responded so quickly. The nursing staff of Selkirk Regional, Medicine 1 who showed such compassion and comfort until final moments. A big thanks to Dr. Frank Stocki mom's eye specialist, who maintained mom's vision for many years because of AMD.
Flowers are gratefully declined. A donation to Springs Church, Selkirk, MB or Selkirk Regional Health Centre in her name would be an honor.
Mom would have celebrated her 100th birthday this June. There will be a celebration once restrictions allow. Say a prayer for her on June 27th, 2021.
Due to COVID restrictions, a private family service will be held. The service can be live streamed via https://youtu.be/HWsk9LGww50 at 11:00 a.m. Friday, March 26.