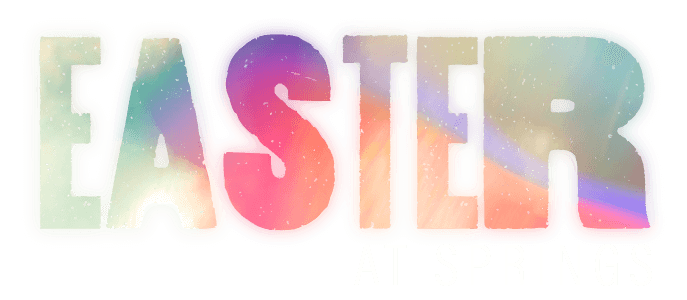 Join us for #easteratsprings throughout the Easter weekend!
Celebrate the hope and joy of Easter Sunday! Choose the service time that works best for you.
Put on your Easter best and prepare your heart to receive from God's Word.
Sunday - 9am, 10:45am & 12:30pm CT
WHERE TO FIND THE SERVICES: 
1 – Drive-In At Springs Church, 595 Lagimodiere BLVD 
2 – 725 Lagimodiere, come inside and enjoy live worship and the same great service as the Drive-In
3 – Facebook.com/leonjfontaine 
Sunday - 9am, 10:20am, 11:40am & 1pm MT
People are often looking for a place to share Easter together, and we'd love to welcome your family and friends to be a part of our Easter celebration! Reach out to your neighbours, extended family, and co-workers, and invite then to celebrate Easter with you at the Drive-In or online! 

COMMUNION SERVICES - 10am & 7:30pm CT
There is no better time to reflect on the sacrifice of Jesus than this Friday. So join us for a very special Good Friday service with worship, teaching and communion with Pastor Leon. This will be a great opportunity to take communion with your family too. Be sure to have some juice and bread or crackers ready.
Please note this is an ONLINE service only. We will not be hosting it at the Drive-In.

Saturday, April 3 | 1 pm MT
Make this Easter weekend one to remember. Join us for a special screening of The Passion of the Christ. 924 Coffee will be open an hour before (at 12 pm) with lunch available for purchase
*Rated 18A – those under 18 need to be accompanied by a parent or guardian.